Dr. Ahmad Abdul Kader was a former
Central President
of Shibir who was elected in 1982 but resigned in August of that year. He was involved with Shibir from the very beginning of the organization in 1977. After resignation, Dr. Ahmed Abdul Kader formed an organizaation named Jubo Shibir which existed till its merger into another organization named Khelafat Majlish on 8 December 1989.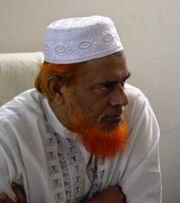 Dr. Ahmad is a teacher of Darul Ihsan University.
[1]
Ad blocker interference detected!
Wikia is a free-to-use site that makes money from advertising. We have a modified experience for viewers using ad blockers

Wikia is not accessible if you've made further modifications. Remove the custom ad blocker rule(s) and the page will load as expected.