Abdullah Al Monju was a Shahid of Shibir who was killed in Kumarkhali Upozila of Kushtia by Awami League miscreants in 2012. Abdullah Al Manju, 16, son of Abdur Rashid, was a student of 2nd year in Panti College and the president of local unit of Shibir. 
Abdullah Al Monju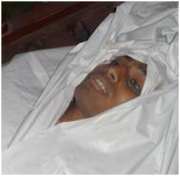 Address: Kumarkhali, Kushtia.
Institution: Panty College, HSC, 2nd Year.
Political Designation: President of Bangladesh Islami Chhatra Shibir, Panty unit, Kushtia.
Time and Place of Death: 13th April 2012 at the yard of his own home in Kumarkhali, Kustia.
On 12 April afternoon, Southern Kumarkhali unit of Bangladesh Islami Chhatra Shibir organised a quiz competition in a local high school. A group of leaders and workers of Chhatra League and Awami Juba League entered the high school in Panty Union and tried to force the leaders and workers of Islami Chhatra Shibir to stop the quiz competition. The leaders and workers of Chhatra Shibir declined to follow them. Chhatra League workers attacked on Shibir activist Nazmul and took away Shibli Noman with them. The situation turned volatile since then. The leaders and workers of Chhatra League and Awami Juba League left the place and got ready to attack them, according to local sources. 
The next day at 9 am in the morning, a group of Chhatra League and Jubo League activists numbering about 25 under the leadership of Farque, Latif and Ruhul Amin, equipped with lethal weapons attacked the houses of Shibir activists at Gorostanpara village in Panty Union. They went to the house of Monju and made him come out of his room to the yard as he was brushing his teeth.
During the attack Abdullah Al Monju was stabbed repeatedly when he came out from his room. Then BCL attacker Faruq (Son of Awami League leader Badsha) threw a sharp weapon to Monju from behind and it went all the way through his chest. The attackers chopped him indiscriminately in the yard of his house. He died on the spot instantly.
Chhatra League and Jubo League members carried attacks on several other houses in the same area. Ten people, including Minarul, Faruque Hossain, Yousuf and Rashedul, were injured seriously in the attack. They were rushed to the Kushtia 250-bed hospital in a critical condition.  A half day general strike in protest of the killing was observed in Kumarkhali upazila on 14 April.